Preparation of soil and afforestation
Preparation of soil and afforestation
Active single-disc plough P1T
A main advantage of the active disc plough is leaving the fertile soil layer in almost intact condition, and shoveling only the top layer that is dry and loose. On periodic wetlands there is a possibility of forming ridges after adjustment of the angle of the transmission box and after disassembling the subsoiler.
The P1T-H plough equipped with a subsoiler and own hydraulic system has been designed for a complex pre-planting soil cultivation. It combines advantages of an active plough and cultivation with a soil ripper.
Single-disc active plough with own hydraulic system is a new construction based on existing P1T ploughs. It has a modified power transmission – own hydraulic system – PTO shaft powered, designed for soil plowing and cultivation on forest areas, works with a tractor of a power of 60-90 kW. The active P1T-H plough has been designed for tractors of a low efficiency of the hydraulic system. The minimum requirement for a proper operation of the plough is 40-50 l/min.
For tractors of a high efficiency of the hydraulic system it is recommended to apply the early P1T plough.
The single-disc plough P1T-H aggregated with a tractor while in the working position and being carried on the area for planting makes a furrow formed as a result of a rotary motion of the milling disc that tears off the top layer of soil and disposes it aside. The furrow is U-shaped and its bottom is aerated to a depth of 4 cm. The ridge is formed from mixed top soil layer. The plough can be applied for preparation of post-clearcutting or post-agricultural areas for planting as well as for introduction of planting into existing forests. After disassembling the subsoiler and after adjustment of the angle of the transmission box there is a possibility of forming ridges on periodic wetlands. The single-disc active plough with a subsoiler reduces costs in preparing soil for planting.
A single work ride allows for:
furrow formation
subsoiling up to 500 mm
pulverizing of the furrow
The active plough's main frame enables aggregating with SZU and SAU seeders.
TECHNICAL PARAMETERS
| | |
| --- | --- |
| Description | Parameters |
| Width | 1310 mm |
| Height | 1200 mm |
| Length | 2950 mm + 350 mm |
| Weight (with weights) | ca. 850 kg + 50 kg |
| Weights' weight | ca. 200 kg |
| Milling discs number | 1 pc |
| Milling disc adjustment angle | 17°,32°,47° |
| Furrow width | Up to 600 mm |
| Furrow depth | Up to 250 mm |
| Milling disc diameter | 970 mm |
| Milling rpm | ca. 36-38 min -¹ |
| Plough's drive | Hydraulic engine |
| Subsoiling depth | Max. 500 mm |
| Subsoiling depth control | skid |
| Attendance | Tractor's operator |
| Required tractor power | 60 ÷ 90 kW (ok. 80 ÷ 120 KM) |
| Capacity | max . 2,0 ha |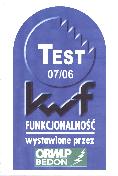 Gold Cone of V International Forest Fair in Warsaw, 1998
P1T Plough with subsoiler (U162)
Gold Medal on EKO-LAS Fair 2006 (Tuchola) for P1T plough with subsoiler and SZU seeder
Special Distinction of Torun Regional Directorate of the State Forests on EKO-LAS Forest Fair 1998 (Tuchola)
P1T active plough with subsoiler
Najnowsze aktualności
Najnowsze aktualności
Polecane artykuły
Polecane artykuły